It's been a while since we blogged about the celebrity scene, so when I spotted a certain sandal making the rounds among not one, not two, but three stylish stars … I knew I had to write about it.
The shoe is the Sam Edelman Gilda (left), a snakeskin gladiator flat also featured on Solevoice in May.   Rachel Bilson (below left), best known for her role on The O.C., choose a casual grey dress, gold belt, oversized handbag, and fedora to top her pair of Gilda sandals.
Katherine Heigl (below center) of Grey's Anatomy opted for a dressier look with a scoop-necked red dress and few accessories.  Both Rachel and Katherine, though, knew their simple, mid-thigh frocks would serve to lengthen their legs and minimize the "cut off at the ankle" effect that tends to occur with strappy sandals like these.
Finally, the most casual of the three, Vanessa Hudgens (below right) from High School Musical paired her Sam Edelman Gildas with skinny jeans and a colorfully printed top.  By creating a single, long line from hip to toe, Vanessa is also able to give herself a lithe silhouette.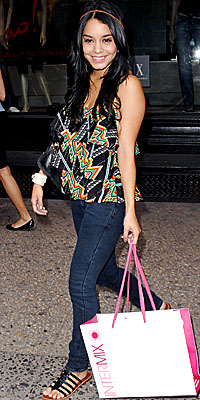 Want to replicate the look of one of these lovely ladies?  Get your own pair of Sam Edelman Gilda gladiator sandals.  Rachel, Katherine and Vanessa all opted for black, but we've got it in white, too!  Just $79.95 at Solestruck.com and as always, the shipping's on us.
– Katie