We love anything to do with flashing, and flash contests totally get us going (cause you guys really give it to us!) So here they are, the winners for our flash contest to win a hard copy of the zine!
10 WINNERS, 1 ZINE, A LIFETIME OF AWESOMENESS.
ELISE NEDAL HELGESEN
"I want the 'zine because I've already been reading it a hundred times online, and now I'm desperate for a copy of it to cut out all the rad pics from and hang on my wall! I couldnt afford buying a copy because of the shipping, so please save me and bring me the lovely solestruck madness to fill my walls♥"
JENNIE WU
"Solestruck, you popped my shoe fetish virginity. ♥ I think it's fitting for me to receive your magazine for the First Time.
"
DARRAGH KILKENNY-MONDOUX
"Magazines are the truest document of an era, this'll be one for the grandkids, tumblr and citation in school essays, in all likelihood ♥"
LINDSEY JACKSON
"I want the first zine because just like the individuals who grave the cover, Jeffrey Star, Solestruck and the sole fashions you give to the world are unique and captivating… They help us march to the best of our own drums!"

FLEUR LOWDEN
"i want it because its so ME its inspiring for my illustration and graphic work i do in college, it gives me fashion inpso when im scouring charity shops and its just something i want to be part of. i love the whole creativness and look and omg i just want it, ly solestruck"
YUE CHAN
"I've found you guys to be the biggest fashion inspiration in my life. to rid the world of ugly shoes one pair at a time is truly inspiring in that you are trying to move our world fashion forward. I'm even more impressed that you guys are constantly ragging on boys who are afraid to dress nice and push them to try new things. the eclectic style that you guys embody is truly beautiful, and I'm so glad you guys work so hard to spread that style. I would love to have this because I know I would pore through it everyday, drinking in every pixel of each printed page. ♥"
VIAHNEY CHAVEZ
"I want this 'zine because I've seen Solestruck grow & it brings so breathtaking inspiration to my daily life. I first found out about you from my oh-so-fashionable cousin almost a year and a half ago & am proud to say I've found aesthetic satisfaction. I love how you guys aren't all faux following mainstream fashion-it's more like you guys set the trends. I totally recognized Jeffree Star by her hair aw. ♥ I'm so excited about Solestruck trying out new ways reaching to inspire people. I'm looking forward having such precious magazine in my hands, flipping pages of beauty!"
ANGELENA VELEZ
"Being someone who values printed information and imagery more than web based I think receiving a copy of the zine would be more useful to me for visual inspiration as well as something I would hoard for years to come with my many stacks of prized printed magazines. I don't know what I could talk about more.. My passionate love for collecting aesthetically pleasing footwear or sitting down to a fresh printed magazine to further fantasize about my feet. That new ink smell excites my bones."
SAM GOGUEN
"I would want to own the zine because it highlights women who are bold and full of power. It portrays the sporty edgy women while being mixed with the danity eccentric lady. It embraces a women's power to be bold to test the outter boundaries of her shell to go where no women has gone before. I look up to women like them who aren't afraid to say "look at me I'm different and I rock it""
GLORIA IM
"I prefer inspiration i could use as reference in front of me rather than pixels i can't grasp. 'zine is something that offers a creative mind to discover and explore through the minds of other individuals, that tell their own stories. Fashion and bold imagery in one book is what any designer would want to have."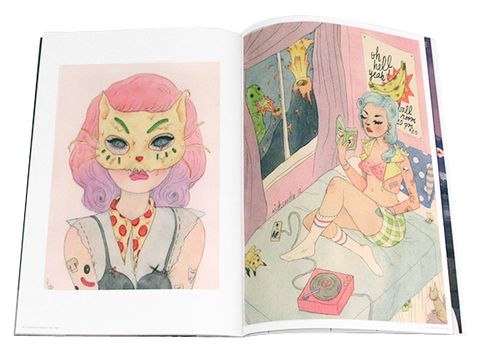 Congrats! You touched our hearts and made us all giddy with pride, thank you so much for all the awesome words! Please contact customerservice@solestruck.com (put ZINE CONTEST WINNER) in the subject line) with your shipping address and we'll get it out to you today!