Finally, the boots you've been waiting for are here! The Pastry Marshmallow Boots, often compared in style and comfort to Uggs, have arrived on Solestruck.com.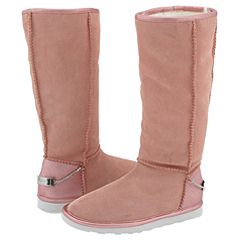 The names are just as delicious as any other Pastry offering … Pastry Marshmallow Boots come in Milk Chocolate, Dark Chocolate, and Pink (personally I think they should have called it Strawberry or Raspberry!) … and the style is right on target for winter weather. A soft, supple suede covers the 12 1/2″ shaft, which you can fold down to convert the silky faux fur lining into a stylish collar–giving you two looks for the price of one!
Hugging the heel is another element of versatile style. This detachable metal chain features the Pastry logo, adding a kick of shine to your shoes or wrapped around your wrist as a unique ID bracelet.
As you probably know, the Pastry shoes brand was launched just under a year ago by Vanessa and Angela Simmons of MTV's Run House. The Pastry Marshmallow Boots and other Pastry shoes are a division of Run Athletics, which was created in 2003 by the girls' father Joseph Simmons and his brother, hip hop mogul Russell Simmons.
Besides these top-selling boots, the Pastry line also offers a collection of colorful sneakers with names that are just as tempting, such as the Cake Runner and the Fab Cookie. It's also been rumored the girls will add children's shoes, clothing and handbags to the brand in the near future.